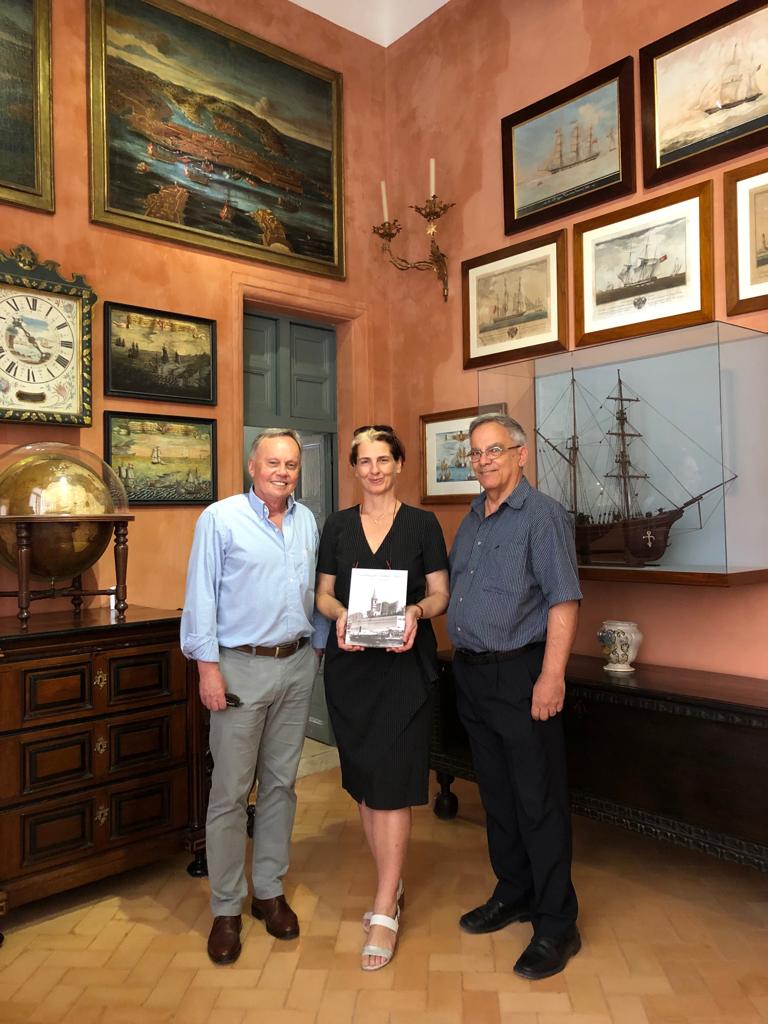 'Connecting the Harbour Towns' presented to the Curator of Palazzo Falson
Karl Gollcher (left) has presented a copy of the book 'Connecting the Harbour Towns' to Caroline Tonna, curator of Palazzo Falson at Mdina. The book, which was written by Michael Cassar (right), was sponsored by the Gollcher Group of Companies as part of events being held to mark the firm`s 165 th anniversary since its foundation in 1854.
In a short speech, Karl Gollcher recalled the purpose of the book: a testimonial to his late father, Comm. James G. Gollcher, who, not only expanded the shipping agency business of his predecessors but also endeavoured to compile and document the company`s extensive archives so that its decades-long activities would be preserved for posterity and be made available to researchers.
Gollcher`s venture into the harbour ferry business in 1897 was a logical extension of its entrepreneurship in the field of shipping services. The company brought competition on the Sliema-Valletta ferry route and, by introducing larger ferries with superior accommodation, brought about the unprecedented development of Sliema, which soon surpassed Valletta in size and population.
The introduction of a second service in Grand Harbour in 1906 introduced faster, cheaper and easier connectivity between the harbours; summer services to St Julian`s and St Paul`s Bay broke the relative isolation of these seaside towns and villages, and contributed to their growth and the birth of commuting by ferry.  The social importance of the ferries is generally underestimated, most likely to their being regular, cheap, fast and efficient. The story of the ferries epitomises the truth that change is the only certainty in life, and that what goes round comes around; the ferries displaced the local boatmen, the barklori were eventually themselves displaced by motor transport. Also, in answer to a specialist demand, Maltese shipbuilders built, for the first time ever, a different kind of craft powered by coal-fired steam engines, to transport scores of passengers across the harbour towns.
Palazzo Falson is the former home of Capt Olof Frederick Gollcher OBE (1889-1962), a descendant of the eponymous founder of the shipping business in Malta. Capt Gollcher, who bequeathed his home and collections, was not only an artist, scholar and philanthropist, but also a discerning collector of objets d'art and historical objects which are nowadays exhibited and curated at Palazzo Falson.
The Gollcher Group is nowadays established as a leader in Maritime Services in Malta, offering an array of shipping services ranging from Shipping Agency, Container Services, Liner Agency & Logistics, Cruise ships Agency, Ship repair port agency services, Offshore Oil & Gas logistics services, Flag Registration, International Courier, and Marine Surveying Services and more.