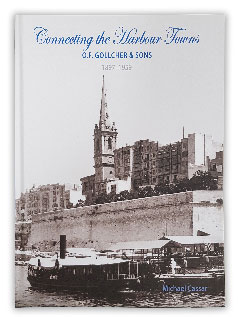 'Connecting the Harbour Towns'
Comm. James G. Gollcher passed away on 16th February, 2014.
After many years of untiring contribution to the family business, he spent his later years compiling an impressive legacy which included the documentation and preservation of the Company archives that cover the diverse activities of O.F. Gollcher & Sons since its foundation in 1854 by Olof Fredrik Gollcher.
The family may best be known for their sea going initiatives. In 1885 they introduced the first steam ferry service connecting Malta with the Island of Gozo and in 1897 they set up another venture ' The National Steam Ferry Boats Company' to connect the harbour towns. This was followed by the 'Grand Harbour Steam Ferry Company' in 1906. Nowadays, the company is a fully fledged Ship Agency offering a multitude of services.
With the expertise of Michael Cassar, an author of several books to his credit, and James Gollcher's extensive research, the company has managed to create this interesting monograph of the harbour towns ferry history.
Most people associate the harbour ferries with the popular song ' Lanca gejja u ohra sejra' but, in reality, there is much more to them than just a song. This is a story of business acumen, rivalry, competences of local shipbuilders, the growth of Sliema, connectivity of the harbour towns, displacing the dghajsa and much more.
This year, O.F. Gollcher & Sons is celebrating its 165 anniversary and with much affection, this book is being dedicated to the memory of James G. Gollcher.  Gollcher Shipping is the operations arm of Gollcher Group