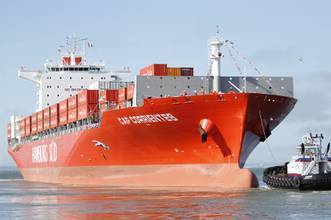 Hamburg Sud honoured by 3PL provider
In August this year, Ceva Logistics presented Hamburg Sud with the ocean supplier of the year award for 2015. The German shipping line was recognized for its strong global relationship with the 3PL supply chain provider in combination with its dedication to ongoing operational excellence.
"The accolade is in recognition of Hamburg Süd's exceptional carrier services at a global and local level," said Helmut Kaspers, Ceva's chief operating officer air and ocean.
Michael Britton, Hamburg Süd's general manager Asia Pacific region, added, "we are delighted with the award from Ceva Logistics. Hamburg Süd is a quality carrier. We aspire to offer the best-possible solution for every logistical challenge and to respond flexibly to our customers' requirements. The distinction confirms our belief that, in an extremely competitive market, success can be achieved with customer centricity and operational excellence."
Original Source: http://transportjournal.com/en/home/news/artikeldetail/hamburg-sued-honoured-by-3pl-provider.html