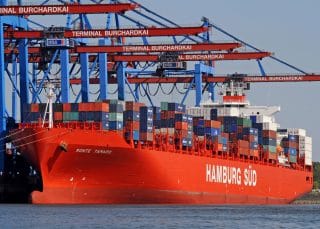 Maersk Line, Hamburg Sud enter East – West purchase deal
Danish shipping giant Maersk Line is scheduled to receive the EU antitrust regulator's decision on the company's plan to purchase the Germany-based Hamburg Süd by March 27, according to Reuters.
The deal, reached at the beginning of December 2016 amid a consolidation period in the industry, was filed to the European Commission on February 20.
Reuters informed that the EU competition can extend the review by some two weeks or open a five-month investigation, adding that the Danish carrier might be asked to end its membership in some shipping alliances in order to receive the approval for the Hamburg Süd deal.
A.P. Møller – Mærsk A/S, the parent company of Maersk Line, earlier said that it expects to close the transaction by the end of 2017.
"With this acquisition, Maersk Line follows the strategy announced on September 22, 2016 to grow market share organically and through acquisitions. Acquiring Hamburg Süd will create a unique opportunity for further development of Maersk Line's business to the benefit of customers, employees as well as shareholders," Maersk Line said in December.
Hamburg Süd, which operates 130 container vessels with a container capacity of 625,000 TEUs, is the world's seventh largest container shipping line.
Original Source: http://worldmaritimenews.com/archives/213328/maersk-to-get-decision-on-hamburg-sud-deal-by-march-27/