The visit of the Italian Navy sail training ship Amerigo Vespucci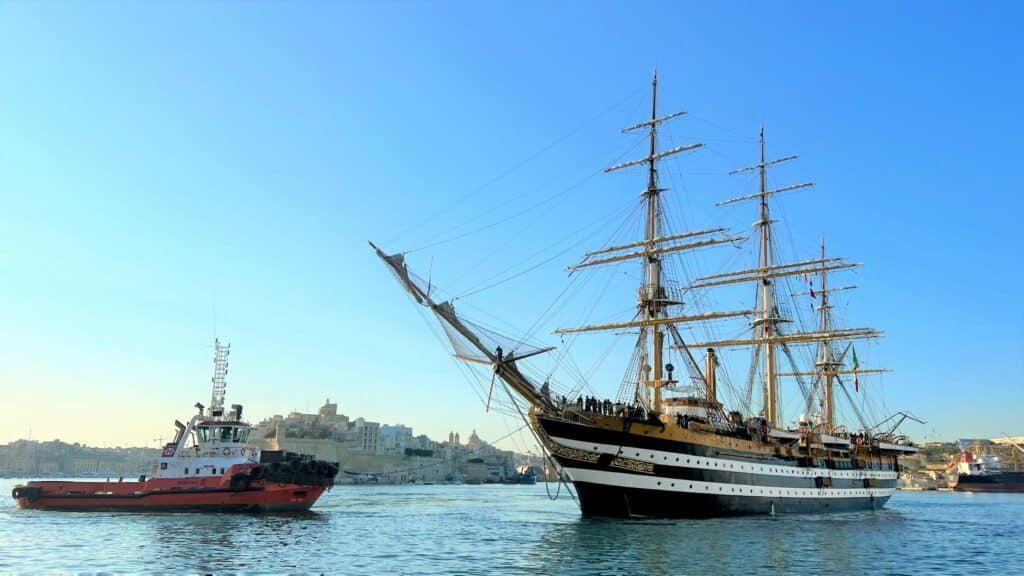 O.F. Gollcher & Sons Ltd. are proud to be serving as the shipping agent responsible for the Italian Navy Ship Amerigo Vespucci's visit in Malta.
In the fast-moving maritime world, most ships have limited lifespans owing to seaborne stress, material decay and ongoing technical innovation. Naval sail training ships are an exception; they are lovingly curated and polished by generations of cadets who later recall their time before the mast. On the Amerigo Vespucci they are inspired by its motto: non chi comincia ma quel che persevere – Not he who begins but who perseveres.
The Italian Navy sail training ship Amerigo Vespucci is in Grand Harbour, Malta, on a three-day visit. Technical details of the ship are in public domain but it is worth recalling that, by a twist of fate, an earlier sister Cristoforo Colombo served until the Second World War.
The 91-year old Amerigo Vespucci is a time capsule; if the ship could speak, it would tell of the thousands of young men and women who spent time on the ship, learnt the ropes, literally, and all aspects of seamanship, and went on to further service in the Italian Navy, often attaining top posts.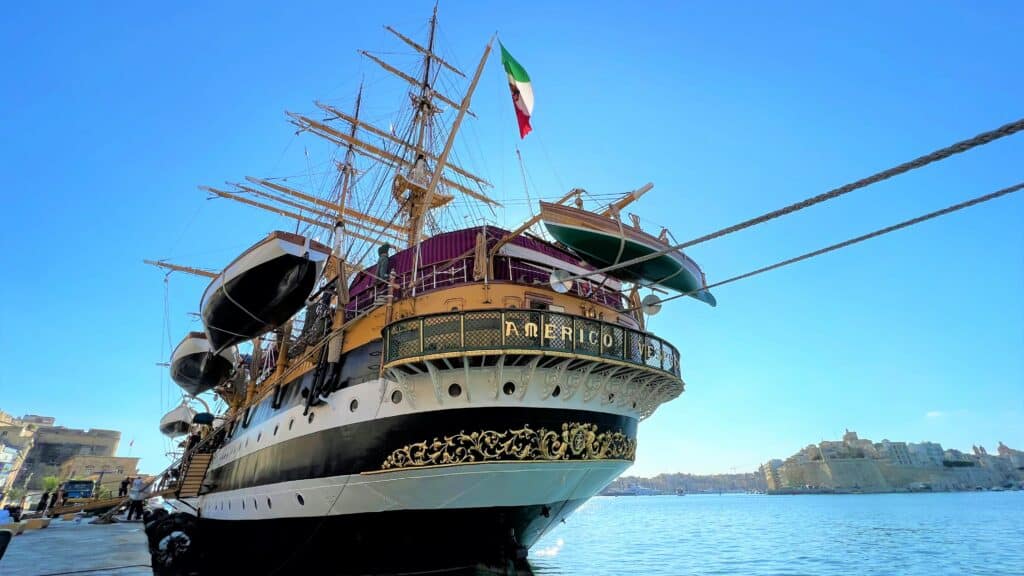 The accompanying image of the ship`s first visit in February 1935 captures a point in time of global history. It was the heyday of the Royal Navy Mediterranean Fleet with its two battleship squadrons in Grand Harbour. Britain looked askance at the burgeoning Italian Navy, whose ships called at Malta on courtesy visits. It was a superb opportunity to examine a rival power`s ships from close up. Tensions were high: there was the resurgence of Fascism, the Mediterranean as Mare Nostrum, keen Italian interest in Malta, with its long-standing pro-Italian sentiment – Malta Irridenta.
On that mid-winter day, the cadets on the Vespucci gave an impressive display; they manned the yards while the ship was turned round assisted by the Dockyard tugs Respond, West Cocker and West Dean, a manoeuvre executed in the shadow of the flagship HMS Queen Elizabeth and the other battleships in the squadron.
The return of the Vespucci highlights the mutability of things, ships and men, navies, politics and empires; it is an instruction on the ephemerality of life. The Amerigo Vespucci called at Malta on other occasions. The connection between teaching and learning led to the ship being featured on the cover of the Malta Union of Teachers magazine, Issue No.57 of 1994. Enrico Guriolo published an account of the ship`s first visit in 1935 (see The Times , Thursday, July 7, 2011).
Should you need support for similar Shipping Agent services in Malta please do not hesitate to contact us here.
Michael Cassar, August 2022.